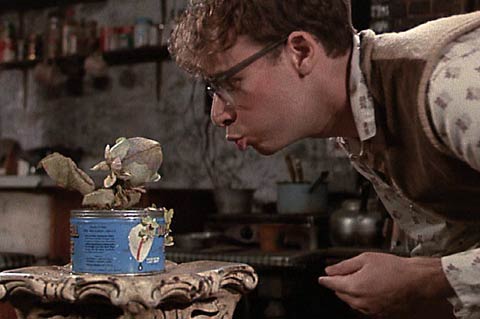 courtesy of alicia-logic.com
Part three...enjoy! See the playlist at the bottom of each of these posts to listen to the songs in full.
Link to Part 1
Link to Part 2
Note
: Characters in the film don't technically "sing" these songs. For a list of those, check out the
Five Best Non-Musical Sing-a-Longs
.
Note
: Some of the songs/videos on these lists may not be suitable for young audiences (language).


Scene from"Office Space"courtesy of jontanis.com

Geto Boys - "Still" from Office Space (1999)

Link to Scene: http://www.youtube.com/watch?v=y5orss3fAEU
When I was in college, this suddenly became everyone's favorite movie. Maybe we were all hoping that we could fight the power a little. Maybe we all wanted to avoid the jobs it showed us. Or maybe we just wanted to trash an office printer. Either way, Mike Judge's modern cult classic somehow made cubicles a little bit "thug" for a while.


Scene from "Fight Club" courtesy of lazyrevolution.com

The Pixies - "Where is My Mind?" from Fight Club (1999)

Link to Scene: http://www.youtube.com/watch?v=vVof0qj7SOw
In a film that is essentially about anarchy, the closing scene -set to The Pixies' trademark anthem - is hauntingly beautiful. Edward Norton and Helena Bonham-Carter stand and watch as the world around them is destroyed, but something about it is so moving, thanks in part to alternative rock guitar chords of Black Francis, Joey Santiago, and Kim Deal.


John C. Reilly and Melora Walters in "Magnolia" courtesy of thecellardoorblog.blogspot.com

Aimee Mann - "Wise Up" from Magnolia (1999)

Link to Scene: http://www.youtube.com/watch?v=qJ_phQnNE80
A very hit and miss film for most, I will gladly defend this Phillip Thomas Anderson film as a gorgeously wrought, though sometimes overwoven (is that a word?) story about life, love, and how we relate to one another. The turning point in the film has all our main characters separately joining each other as they sing along to Aimme Mann and her tender voice and piano. The montage still stands as one of the most memorable, though weirdly moving moments in film of the past 15 years.


Christian Bale in "American Psycho" courtesy of therpf.com

Huey Lewis & the News - "Hip to Be Square" from American Psycho (2000)

Link to Scene:http://www.youtube.com/watch?v=QvBAEp3Znn4
There are a few 80's hits I could have chosen from this one, but I went with Huey Lewis because of all the reasons Patrick Bateman (Bale) gives in the clip. This is truly Bale's adulthood coming out party, and in this scene, he gets to do some dancing, some waxing ideologic on the album "Sports," and take an ax to Jared Leto in his living room. Good fun for all!
Note: When my brother calls my cell phone, this song play for this exact reason. Creepy, I know.


Noah Wyle and Drew Barrymore in "Donnie Darko" courtesy of lovelydisco.wordpress.com

Tears for Fears - "Head Over Heels" from Donnie Darko (2001)

Link to Scene: http://www.youtube.com/watch?v=VWJPa0bvWnM
The movie that set the stage for independent, cult cinema in the early 2000's, Richard Kelly's meditation on time travel, the Reagan era, and high school uses some pitch-perfect melodies to further the impact. Of the lot, the sequence that starts with the school bus door opening introduces us to all the major players in the film without using narration, all while this memorable new wave tune takes us home.