[caption id="" align="alignright" width="226" caption="Owen Wilson and Vince Vaughn in "The Wedding Crashers" courtesy of sheknows.com"]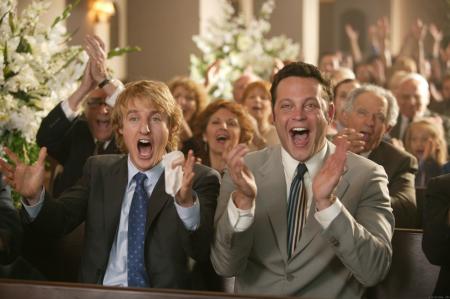 [/caption]
This coming weekend, I have the privilege of being a groomsman in my high school friend's wedding. In honor of that occasion (and anyone else who has ever been to a wedding), let's take a look at the five best movie weddings in chronological order.
NOTE
: We're discussing the wedding itself in the film, not the whole film. There could be movies on the list that aren't about weddings, exactly. Or, there could be awful movies that had only one good scene which happened to be a wedding. But, you'll see. Enjoy...
[caption id="" align="alignleft" width="133" caption="Clark Gable and Claudette Colbert in "It Happened One Night" courtesy of abbeville.com"]
[/caption]
It Happened One Night (1934)
The first film to sweep the Oscars (picture, director, actor, actress, screenplay) also gave us one of (if not the) first "leave him at the altar" moments.
As Ellie (Claudette Colbert) is about to marry an aviator, reporter Peter Warne (Clarke Gable) comes to collect his pay from Ellie's father. Instead, Ellie's father convinces his own daughter - at her own wedding, mind you - not to marry the aviator and marry Peter instead. She runs from her own wedding to do so and the "walls of Jericho" come down (running theme in movie...watch it for the explanation). Thankfully, daddy can afford to pay the aviator $10,000 for his trouble and have the marriage annulled. Does he get to keep the gifts?
[caption id="" align="alignleft" width="137" caption="Katherine Ross and Dustin Hoffman in "The Graduate" courtesy of hubimg.com"]
[/caption]
The Graduate (1967)
Not many women would leave a man at the alter for a guy who slept with her mom, but Katherine Ross is just that type of gal.
In the first movie to really poke fun at the idea of sex, Ben (Dustin Hoffman) is seduced by his parents' friend Mrs. Robinson (Anne Bancroft). Simultaneously, he falls in love with her daughter Elaine (Ross), who is engaged to another man. Because it's apparently the only time you can ever get a girl's attention, Ben waits until the actual wedding day, pulls her away from the ceremony, and jumps on a bus with her still in the dress. The beauty of the moment isn't that these two are going to start a wonderful life together - it's the look on their faces when they realize they have no idea what they just did and where to go from here.
[caption id="" align="alignleft" width="255" caption="Scene from "The Godfather" courtesy of scrapetv.com"]
[/caption]
The Godfather (1972)
Yes, the film is violent and the main characters are all part of the mafia. But, at its heart,
The Godfather
is a film about family.
Apparently, if you have a favor to ask of the Don, you ask him on the day of his daughter's wedding - a Sicilian can't turn you down on that day. But between granted wishes, Vito Corelone (Marlon Brando) enjoys a beautiful ceremony with his family. It's a perfect way for Coppola to introduce us to the major players in the rest of the film - start us off happy, then take us down a devastating journey of crime and betrayal. Michael Corleone (Al Pacino), just returning from war, tells stories to his girlfriend Kay (Diane Keaton) about the family during the wedding. Little does he know, he'll be taking over soon.
[caption id="" align="alignleft" width="249" caption="Meryl Streep and Robert De Niro in "The Deer Hunter" courtesy of time.com"]
[/caption]
The Deer Hunter (1978)
In what has to be the most bittersweet wedding on the list, the wedding of Steven (John Savage) and Linda (Meryl Streep) - whom both Michael (Robert De Niro) and Nick (Christopher Walken) also love - serves as less of a celebration of love, but as a going away party, both in truth and innocence.
The men are leaving for Vietnam soon, so this wedding serves as their last hurrah. The rest of the film shows us not only their time in Vietnam, but how they handle their return to American soil. It gives us an in-depth look on soldiers returning home - in retrospect, the wedding serves as memory of a time when they were happy and everything was "normal."
[caption id="" align="alignleft" width="173" caption="John Corbet and Nia Vardalos in "My Big Fat Greek Wedding" courtesy of smh.com.au"]
[/caption]
My Big Fat Greek Wedding (2002)
An independent film that became mainstream,
My Big Fat Greek Wedding
shows us the life of Toula (Nia Vardalos) and her overbearing Greek family. When she falls in love with a non-Greek named Ian Miller (John Corbett), the family is thrown into upheaval.
This funny, quirky story of courtship in Chicago has plenty of ups and downs and the wedding ties a nice ribbon around the story. The wedding makes me wish I had some Greek Orthodox friends who stuck to tradition like the Portokaloses. Who doesn't love a happy ending? I wish my parents bought me a house...maybe not next door.
So, raise your glasses to the best and most memorable weddings on films. If anyone has any objections, speak now or forever hold your peace.