[caption id="" align="alignleft" width="241" caption="Angels Stadium of Anaheim courtesy of baseballpilgrimages.com"]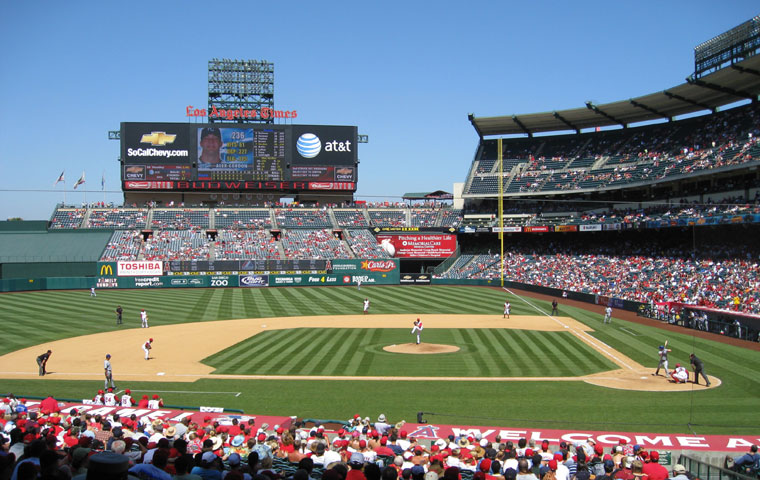 [/caption]
Major League Baseball's All-Star game is this evening in Anaheim, California. So, in honor of America's national past time, let's take a look at the five best films about baseball, listed in chronological order.
NOTE
: Baseball was my favorite sport growing up, so this list was incredibly difficult to make for me. I did my best to put sentimentality aside and simply look at the quality of the film. Therefore, there are a number of "honorable mentions" at the end.


[caption id="" align="alignleft" width="255" caption="Gary Cooper in "Pride of the Yankees" courtesy of celluloidheroreviews.com"][/caption]

Pride of the Yankees (1942)
Gary Cooper stars in this touching portrayal of the "Iron Horse." Everyone remembers the line, actually delivered by Gehrig, "Today, I consider myself the luckiest man on the face of the earth." Well, it's a dead giveaway when Cooper delivers it in this film.
The most interesting thing about the film (and a peak into what the film industry
used
to be), many Yankees play themselves, including the great Babe Ruth. It's obviously overly sentimental, but it set the bar for all baseball movies to follow it.


[caption id="" align="alignleft" width="273" caption="Scene from "Bad News Bears" courtesy of thecinemaguy.com"][/caption]

Bad News Bears (1976)
Ignore the Billy Bob Thornton version - completely. When a crotchety drunk (Walter Matthau) takes over as manager of a little league baseball team, it is nothing short of ridiculous. Full of children swearing, racial slurs, and surprisingly insightful observations on the father-child relationship (in a sports sense).
Starring Matthau and future Oscar winner Tatum O'Neil and nominee Jackie Earle Haley,
Bad News Bears
is a hilariously fun trip through little league baseball in the 70's and what it means to be part of a team, even if it is a terrible one.


[caption id="" align="alignleft" width="277" caption="Tim Robbins and Kevin Costner in "Bull Durham" courtesy of starpulse.com"][/caption]

Bull Durham (1988)
The first entry on the list starring Kevin Costner,
Bull Durham
is a candid look at minor league baseball and who inhabits this sub-professional league. Also starring a young Tim Robbins and Susan Sarandon,
Bull Durham
strikes a chord on what it means to have unreasonable expectations placed upon you and what it's like to reach the end of your career and do anything you can to hang on.
Stuffed within all the one-liners and baseball is a funny little love triangle between the three stars, which gives us one of the most memorable speeches in film history about what Kevin Costner "believes in."




[caption id="" align="alignleft" width="279" caption="Ray Liotta and Kevin Costner in "Field of Dreams" courtesy of collider.com"][/caption]

Field of Dreams (1989)
A touching story about the lost relationship between a son and his father,
Field of Dreams
isn't so much about baseball, exactly. Ray Kinsella (Costner) is a simple farmer who begins to hear a voice that everybody recognizes: "If you build it, he will come." After getting help from a reclusive author (Burt Lancaster), he begins to build a baseball field. Once the field is built, Kinsella meets Shoeless Joe Jackson (Ray Liotta), who then reunited him with his father.
Costner was never better and more touching than in this inspirational film (that includes the depressingly ridiculous
Dances with Wolves
).
Field of Dreams
shows us the power of a game as simple as baseball, and how it can bring anyone together, long after it helped tear them apart.


[caption id="" align="alignleft" width="176" caption="Tom Hanks and Geena Davis in "A League of Their Own" courtesy of womenonscreen.com"][/caption]

A League of Their Own (1992)
In what is every cast member's best performance (that
includes
Oscar winner Tom Hanks), the story of the women's baseball league during the world war is hilarious, heartwarming, and a wonderful story. Geena Davis plays Dottie Hinson, a prodigy female catcher who joins the All-American Girls Professional Baseball League when he husband is called to war. There, she unites with a hilariously talented group of women and goes through the camaraderie of sports and the heartbreak of loneliness together.
Tom Hanks is so out of character he is unbelievable in his role as an alcoholic ex-player who has no business leading anybody, let alone a group of female baseball players. He has perfect comic timing and plays against a perfectly cast Davis like none other. It's a perfect film about a less thanperfect time in our American history.
As I said above, here's a handful of honorable mentions that are worth your time, even if they aren't "the best."
-
The Jackie Robinson Story
(1950)
-
Angels in the Outfield
(1951)
-
The Natural
(1984)
-
Eight Men Out
(1988)
-
Major League
(1989)
-
Mr. Baseball
(1992)
-
The Sandlot
(1993)
-
Cobb
(1994)
-
The Rookie
(2002)
-
Sugar
(2008)