Scene from The Dark Knight Rises
courtesy of collider.com
Well, the year is almost over, so it's time to look back. 2012 was a really good year for movies, but as I was compiling this list, I found myself less drawn to specific moments in films than I have been in previous years. Truthfully, I would argue this year may be a better year for filmmaking in general, but less driven by specific
scenes
in film. There are no tops spinning or hallway zero gravity fights. There are no big home runs. There are no feathers floating to the ground with a giant crash. But, there are important moments in really good films that proved that 2012 was a year to be reckoned with in movie houses. Here they are, in alphabetical order by film title. Feel free to point out any I missed in the comments area.
courtesy of nytimes.com
Argo
The Escape
Ben Affleck's fictionalization of the 1980 CIA-Canadian secret operation to rescue six American hostages in Iran is a frontrunner for the Oscar, mostly because of Affleck's steady hand behind the camera. The film is tense, entertaining, and interesting, especially during the attempted escape from Iran, pretending to be talent scouts for a science-fiction film called "Argo." Now, plenty goes wrong (or else it wouldn't be exciting, right?), but watching as the group slowly navigates the airport, sticking to the script Affleck's character has written is exciting, fun, and a joy to watch. There were few moments more touching than the look on faces when these people leave Iranian air space. No that isn't a spoiler - we've known they escaped for over 30 years.
courtesy of collider.com
The Avengers
The Hulk Appears
Who would've thought at the beginning of the year that
The Avengers
would rival (possibly even be better than) Christopher Nolan's
The Dark Knight Rises
? Well, when Joss Whedon took the reins of the blockbuster, he infused it with wit and intelligence, as opposed to just delivering another thoughtless summer movie. The most important aspect was Whedon's handling of Dr. Bruce Banner, played by Mark Ruffalo. Banner works throughout the entire film to contain the monster inside, but, when his safety is threatened, all breaks loose and the Hulk emerges. It's powerful and anything but subtle, but the decision to withhold his appearance until late in the film makes the Hulk's first scene a memorable romp through the city. The property damage...my God.
courtesy of kpbs.com
Beasts of the Southern Wild
Hushpuppy Takes Control
Benh Zeitlin's debut feature and Sundance Film Festival standout Beasts of the Southern Wild has ridden word of mouth throughout the entire year. It's a beautiful, dream-like tale about strength and inner resolve among some of the most unexpected circumstances. It may be losing steam, which may prevent an Oscar nomination for the film and its young star Quvenzhané Wallis, but anyone who sees the film can't help but feel a connection to her character, Hushpuppy. In the film's closing, we see this young girl stand up for her family, her friends, and her father as she faces down the demons of her home and the outside world as they intersect, both figuratively and literally. We all may be a little piece of this big universe, but there are some - like Hushpuppy - who can navigate it with more control than most of us.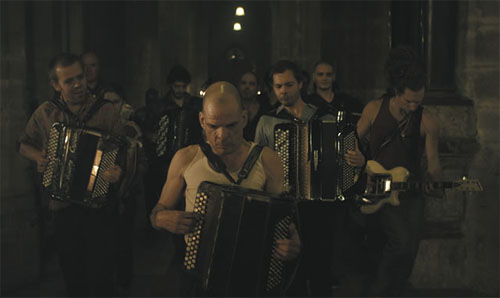 courtesy of slackerwood.com
Holy Motors
Accordion Entr'acte
Casual moviegoers may not recognize this scene. Or this film, for that matter. But, in the film community, there have been few films talked about as much as Leos Carax's first film since 1999. The film stars Denis Lavant as a man who rides around in a limousine, seemingly inhabiting various disconnected lives. Lavant plays over a dozen different characters in the film, with seemingly no tie between them. Even in such a random, crazy film, Carax includes a scene that seems even more out of place, serving as a bit of an intermission, where Lavant leads a band in a rousing rendition of "Let My Baby Ride" by R.L. Burnside with accordions. It's a wonderfully entertaining scene, only halted by the band holding a low note and Lavant turning to his band and yelling "Trois, douze, merde!" which, in English, means "Three, twelve, shit!"
courtesy of monstersandcritics.com
Les Miserables
I Dreamed a Dream
Tom Hooper's overblown adaptation of the classic musical
Les Miserables
locked in some big names for the most recent big screen take on the film, by booking Hugh Jackman, Russell Crowe, and Amanda Seyfried. No performance may have been more anticipated than Anne Hathaway's turn as one of Broadway's most famous prostitutes, Fantine. In the middle of the film, she delivers the show's most famous song, "I Dreamed a Dream." What gives the scene much more impact is Hooper's decision to film it essentially uncut, in sharp close up. Since the actors were all singing live, this scene becomes even more passionate and emotional. It's the high point of a film that is every bit in the race for Best Picture.
courtesy of globaltimes.cn
Life of Pi
The Shipwreck
It's a movie more about design and beauty than substance and, while I was not as big a fan of Ang Lee's adaptation as most, it did provide us with some of the more moving images of the year. The biggest of these is the capsizing of Pi's freighter, leaving him stranded on a rescue boat with Richard Parker, the Bengal tiger. One of the few recent very good uses of 3D technology, Ang Lee approaches this movie changing moment with thrill and vigor, adding just the right amount of life into a movie that could otherwise be seen as terribly boring. The rain, the ocean effects, and the wild camerawork in this scene give Life of Pi enough drama to sustain it through its extended running time.
courtesy of chickflix.net
Lincoln
The House Votes
Director Steven Spielberg and screenwriter Tony Kushner achieved something unthinkable, by creating a look at one of our greatest presidents that should have been the most boring film of the year. Lincoln is dominated by discussion and ambiance, all revolving around the attempted passing of the 13th amendment, which would effectively end slavery. After the Senate passes the amendment, Lincoln (Daniel Day-Lewis) and his supporters focus on making sure the House of Representatives passes the amendment. Somehow, Spielberg creates a scene that, though it's nothing more than men in a room giving a "yeah" or "nay, " is more exciting than most scenes you'll see in cinema this year.
courtesy of fthismovie.com
The Master
The First Processing
Paul Thomas Anderson's surreal drama was advertised as a criticism of Scientology. What it became is something much bigger than that - a look at the psychological toll that war, loneliness, and uncertainty can take on a man. When Freddie Quell (Joaquin Phoenix) finds himself in contact with Lancaster Dodd (Philip Seymour Hoffman), he is grilled with a set of questions allowing Dodd to measure his vulnerability and possible position within Dodd's movement, The Cause. Anderson films it quickly, allowing Dodd to give Quell a barrage of questions, forcing him to answer without blinking, until he can finally close his eyes, overtaken with the spiritual cleanse Dodd forces upon him. It's the most important moment in a difficult film, but one that stands up against the best in a film that may go down in history as a classic.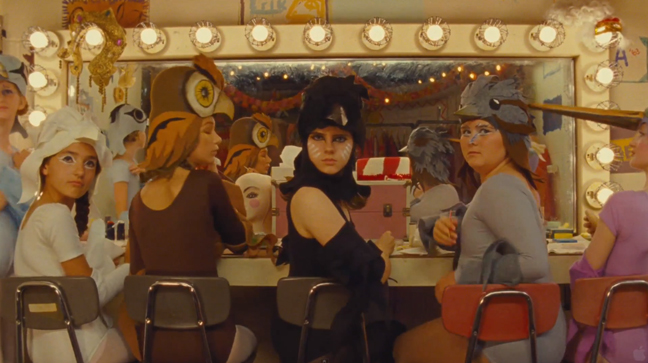 courtesy of feelguide.com
Moonrise Kingdom
What Kind of Bird Are You?
While many would pick the beach dance off between Sam (Jared Gillman) and Suzy (Kara Heyward), the scene that resonates most for me in Wes Anderson's beautifully simple, yet meticulous
Moonrise Kingdom
is their first meeting, backstage at Suzy's opera. The two schedule to meet in a field exactly one year later from this first meeting, where Sam leaves his scout troop, sneaks into her dressing room, and sets their young love in motion with his simple direct question: "What kind of bird are you?" After being interrupted by another performer, he gets more specific, pointing directly at Suzy: "No...I mean, what kind of bird are
you
?" It's simple, it's sweet, and it's the perfect introduction to these two breakout characters and stars.
courtesy of collider.com
Zero Dark Thirty
The Raid
Kathryn Bigelow's take on the murder of Osama Bin Laden is a number of things. It's a tale of revenge. It's a story about feminism. It's a story about regret. Regardless of your take on it, we are given a fictionalization of the Navy S.E.A.L. Team Six's movement in on the compound housing Bin Laden, complete with night vision goggles. While this sounds like it's an exciting ending, Bigelow handles it less with triumph and more with quiet control. This isn't a stand up and cheer moment. This is a look at an act that needed to be completed, but at a cost that may not have been worth it. Bigelow's cast - including main character Maya, played by Jessica Chastain - did all that was needed to accomplish their goal. But, it leaves the audience with a taste that they need to define on their own.
That was 2012 in films. A great year for the medium, proving that film is far from dead.