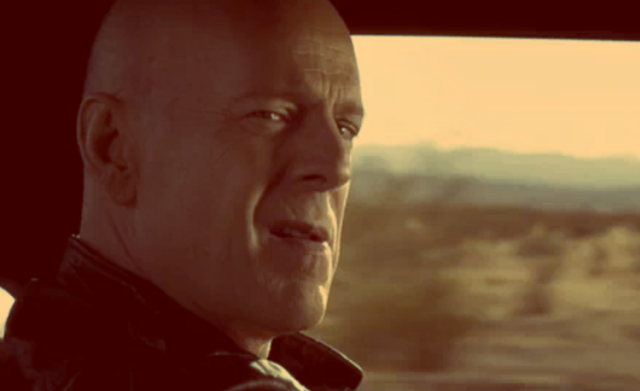 Bruce Willis in The Gorillaz' video
for "Stylo" courtesy of imabearetc.com
Plenty of music video directors have become pretty successful film directors, but how often do we see a performer in a video become a big name movie actor? If it's happened, I can't think of it (no - Courtney Cox doesn't count). But, ironically, it seems to randomly happen in the opposite direction. Below are two lists: great appearances and terrible appearances by movie actors in music videos. Note that none of these are the actors trying to kick start a movie career or appears in clips from a movie of which the song happens to be on the soundtrack.
NOTE
: I admit to playing some favorites here, but if the song is bad, it, in turn, makes the video pretty bad. And I will admit to liking some very bad music.
THE GOOD
Kim Basinger
Song
: "Mary Jane's Last Dance" by Tom Petty and the Heartbreakers
A great entry from Tom Petty from the mid 90's that was partially popular because of the darkly funny video. Basinger was still a hot commodity at the time, especially since she had just tied the knot with other A-list star Alec Baldwin. It was a simpler time for the actress who would go on to win the Best Support Actress Oscar for
L.A. Confidential
. Her downward spiral continues today, but one of her better, stranger performances still exists in this short video, accompanied by a great song and a weirdly funny performance from Tom Petty himself.
Chevy Chase
Song
: "You Can Call Me Al" by Paul Simon
In between his run on "Saturday Night Live" and current role on NBC's "Community," Chase was a well paid comedic movie actor, striking gold with
Caddyshack
in 1980 and the National Lampoon
Vacation
series, along with a number of other hits through the 80's. In 1986, he starred alongside music legend Paul Simon in the second video Simon made for his single, after he hated his first one. Directed by Gary Weis and partly conceived by Lorne Michaels, the video is essentially Chase lip-synching the entire song, while the diminutive Simon watches on. Great comedic video - great song.
Robert Downey Jr.
Song
: "I Want Love" by Elton John
Elton John is a music legend, though his late career music has been less than stellar. But in 2001, he released the single "I Want Love," accompanied by a video featuring Robert Downey, Jr. lip-synching the entire song while in the Greystone mansion - Elton John doesn't even appear in the video. It timed well, given that Downey was getting a second chance in the entertainment industry, finding success on Fox's "Ally McBeal" and movies like
Wonder Boys
. It's a touching video and runs as a nice parallel to Downey's personal struggles - alone in a large, empty house, yearning for companionship.
Scarlett Johansson
Song
: "What Goes Around...Comes Around" by Justin Timberlake
In between all the movies and guest hosting gigs on "Saturday Night Live," Justin Timberlake is a musician, too (don't question that, even if you don't like him). His second solo album was released in 2006, titled "FutureSex/LoveSounds" and showed major growth beyond his boy band roots. One of the biggest hits from the album was this song, accompanied by an epic video starring Scarlett Johansson who, apparently, he never
really
dated (could've fooled me). Still - a solid single with an extended video that feels like it could branch out into various subplots never hurts, especially when you want to transition into acting, as he since has pretty successfully.
Mila Kunis
Song
: "Jaded" by Aerosmith
Late 90's and 00's Aerosmith has been more than hyper-commercialized, sacrificing a lot of the less studio-style rock for which the band originally became popular. While this entry from their sub-par 2000 album "Just Push Play" isn't a great song, the video adds a weird sort of campiness to it that has since grown on me. Starring then TV actress and now movie actress Mila Kunis, it showcases the star as a type of sideshow the crowd watches at an opera house. Somehow it all works and makes for a relatively compelling video. Mostly it works because Kunis is so gorgeous. Scratch that - that's the
only
reason it works.
Christopher Walken
Song
: "Weapon of Choice" by Fatboy Slim
The grand daddy of them all, British DJ Fatboy Slim's 2001 song "Weapon of Choice" is nothing without this incredibly simple, but unbelievably entertaining video. It won the Grammy for Best Short Form Video and it's easy to see why: it features Christopher Walken sitting in the Los Angeles Marriott and breaking out into intricate choreography, eventually leading to him flying around the lobby. Directed by now successful filmmaker Spike Jonze, it's easily one of the top five music videos ever produced, thanks to Walken and his background training in musical theater and dance.
THE BAD
Zooey Deschanel
Song
: "She's Got Issues" by The Offspring
In the early 90's, The Offspring rode a wave of pop punk and alternative rock to garner a hefty fan base, my ten year old self included. As time passed, they never grew out of their childish lyricism, releasing "Americana" in 1998, spawning a number of charting hits. One of those was "She's Got Issues," an immature song with a pretty stupid video directed by the team of Jonathan Dayton and Valerie Faris, who would go on to direct
Little Miss Sunshine
. The video stars a young Zooey Deschanel the year before she started her professional rise with 2000's
Almost Famous
. Just a bad, bad video and song. On the plus side, Deschanel would all but make up for it in 2002 as Jimmy Fallon's girlfriend in his video for "Idiot Boyfriend," a fun parody song that all but erases this piece of garbage.
Jennifer Love Hewitt and Mickey Rourke
Song
: "Hero" by Enrique Iglesias
Don't get me wrong - I adore the way the cheese just drips off this song and this video. Plus, it starred my celebrity crush at the time, Jennifer Love Hewitt. But as fun and over dramatic as the song and video are, it's just not very good. It's a sad revelation that this may be one of Love Hewitt's best performances on film and, though it was nice to see Mickey Rourke doing anything, it's an insane attempt at trying to build a layered story in a short video that is just a way to show all the performers sweating. Videos can build extensive worlds and stories in five minutes, but this one can't. Not all that appealing.
Keanu Reeves
Song
: "Rush Rush" by Paula Abdul
And you thought "Hero" was cheesy. Paula Abdul was in the middle of her chart domination when she released this song in May of 1991, accompanied by a
Rebel Without a Cause
themed video starring Keanu Reeves. The problem: a sappy love song played over a video about a bad boy falling in love with a good girl, leading to a drag race. James Dean and Natalie Wood would be so ashamed. Somehow, Keanu Reeves is a bad actor even when he doesn't have to speak. I'm not sure why Abdul wears four different dresses in the cutaways when she's dancing/singing either. It makes no sense. But when someone switchblades your car tire, I guess you have to defend yourself.
Julia Roberts
Song
: "Dreamgirl" by Dave Matthews Band
The glorified jam band has made a habit of staying as close to being a true pop band as they can without just sacrificing their "credibility." One of the ways to give that up is to involve America's sweetheart in your stupid, stupid video. The song is off of their 2005 studio album "Stand Up" (also, not a great album) and grabbed Roberts because she's a big fan of the group. It's not one of DMB's better songs, accompanied by a video that just features Matthews watching a movie with a faceless guy and Julia Roberts. I seriously have no explanation for this. It's terrible.
Chris Tucker, Marlon Brando, and Michael Madsen
Song
: "You Rock My World" by Michael Jackson
When you're Michael Jackson, you have some draw. I doubt it was a problem getting Chris Tucker to to do the video, since I'd barely define him as an "actor." Michael Madsen probably needed a little convincing, but money talks. Marlon Brando was probably just summoned by a hefty sum of money and a sandwich. Either way, late career Michael Jackson was not so great and, while here he's trying so hard to recapture the glory of his past videos like "Smooth Criminal" with a pseudo-gangster theme, it just fell flat. This is the shorter version of the video - the extended version is even worse.
Robin Williams
Song
: "Don't Worry, Be Happy" by Bobby McFerrin
Paul Simon's video above is the right way to feature a comedic actor. Bobby McFerrin's one hit wonder "Don't Worry Be Happy" was accompanied by this crazy video with Robin Williams...well...being Robin Williams. It was funny to me in elementary school - now it's just irritating. Also featuring Bill Irwin (Mr. Noodle on "Sesame Street's Elmo's World"), the video is carefree and silly, just like the song. But - also just like the song - it grates on your nerves after a while.
I'm not sure where you can see any of these videos on cable anymore, since neither MTV nor VH1 plays videos anymore. But, there was a time when music videos could be viewed as brilliant pieces of art...and train wrecks. In the meantime, here's Jimmy Fallon's "Idiot Boyfriend," starring Zooey Deschanel as a bonus. Enjoy.