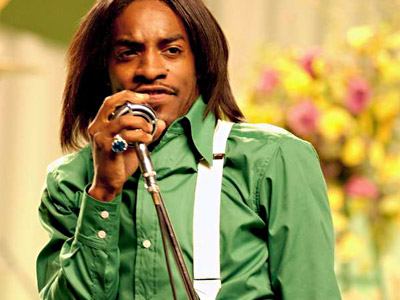 Andre 3000 of Outkast courtesy of
totalmediabridge.com
I graduated from high school in 2001, with my bachelor's degree in 2005, my master's in 2006. So, as you can guess, a lot of these film hit me at very interesting times in my life. I'm not sure why that's important, but it felt like something I should share. With that said, let's continue counting down the definitive movies of the 2000s, with #40-#31. Again, not the best movies of the decade - just the ones that made society take notice in some way, shape, or form.
#40. Ocean's Eleven (2001)
Imagine - you're a director with a few actor friends siting around chatting and you just decide "hey...let's all make a movie together and grab as many other A-list actors we can afford." Not only that, but you decide to remake a classic rat pack movie. The George Clooney - Steven Soderbergh brain trust did just that and brought Brad Pitt, Matt Damon, Julia Roberts, Andy Garcia, Don Cheadle, and some other big names along for the ride, remaking the Frank Sinatra - Dean Martin vehicle Ocean's Eleven, a snarky, self-indulgent comedy-heist that hit a sweet spot. My friends and I tried to connect each character to one of us and I think I was Damon. Either way, it gave way to two sequels (Ocean's 12 was a little full of itself; Ocean's 13 was solid) and one of the most re-watchable movies in recent history.






#39. Garden State (2004)
I was coming-of-age myself when this came out - no girlfriend, no idea what I was going to do with my life. Zack Braff's directorial debut didn't fix any of that, but it hit me and plenty of other twenty-somethings right in the gut with an honest, entertaining look at a lost soul who finds connections in surprising places. Braff is a bit whiny, but the film is made by the quirky performances of Natalie Portman and Peter Sarsgaard, two interesting people who decide the make the most out of what they have instead of yearning for a place and time that never existed. Some say it was
The Graduate
of this generation. I wouldn't go that far, but it did prove that an indie film can live or die by its soundtrack. Besides, life is too short to waste not being with the people who care about you.
#38. Old School (2003)
Think it should be a little higher, don't you? Well, I originally didn't even include it on the list, so be happy it's here.
Old School
premiered while I was in college, so it struck a chord with me. The story of middle aged men trying to recapture former glories strikes that same chord with plenty of man-children all over the world. Most importantly, this film served a few purposes. Number one - it revealed Will Ferrell as the go-to man for slapstick comedy. Number two - it proved that Vince Vaughn is a much better comedic actor than dramatic one. Number three - it was the first film to really grab hold of the "frat pack" stigma - this group of comedic actors that would continue to work together to make some of the funniest movies of the decade.
#37. The Departed (2006)
Martin Scorsese's long overdue first Best Picture winner came with this remake of a Hong Kong police drama called
Internal Affairs
. Marty moved the story to Boston, brought in Matt Damon, Leonardo DiCaprio, Jack Nicholson, Alec Baldwin, and Mark Wahlberg to give us a riveting cat and mouse game for all to enjoy.
The Departed
took home Best Picture, Director, Editing, and Adapted Screenplay, while landing Wahlberg his first Oscar nomination. It was also the first time in a while the Academy went a little outside their comfort zone and didn't pick a "happy ending" film. Bonus - this was the first movie I ever went to with my now wife.
#36. Juno (2007)
Honest to blog...stripper turned screenwriter Diablo Cody's Oscar winning first script gave birth to a bevy of catchphrases and quirk-tastic language, hinging on a great lead performance from young Ellen Page.
Juno
circles around an individualistic high schooler who gets pregnant (through a consensual encounter with best friend Paulie Bleaker, played by Michael Cera) and follows her struggles as she plans to adopt her baby out to an upper class couple (Jennifer Garner and Jason Bateman). It's a funny script embedded with plenty of heart - the high point of Hollywood's weird fascination with pregnancy in the mid to late 2000s. It also gave us the best Jennifer Garner performance of her career as a hopeful mother who grabs you by the heartstrings.
#35. 25th Hour (2002)
Nobody would argue that the 2000s did not start out great for our country. Still reeling from the 1999 shooting at Columbine High School (and the subsequent copycat ones), September 11, 2001 came and changed the world as we knew it. Few directors understand New York City like Spike Lee and few could accomplish what he did with this gem.
25th Hour
is really the first truly honest look at NYC in the post 9/11 world, telling the story of drug dealer Monty Brogan (Edward Norton) as he re-evaluates his life the day before he faces a seven year jail sentence. Alongside Philip Seymour Hoffman and Barry Pepper, Norton gives a brilliant performance as a jaded man with a Travis Bickle-like point of view follows the events that changed his life. Ignored by awards but a critical darling, Lee's film is an excellent one that told a personal NYC story when nobody may have been ready for it.
#34. No Country for Old Men (2007)
The year after the Academy decided to go a little darker with their Best Picture winner
The Departed
, they nose-dived into dark, twisted narrative by handing their top award to the Coen Brothers brilliant Rio Grande film noir
No Country for Old Men
, based on the iconic Cormac McCarthy novel. I could sit here and talk about the editing, cinematography, and screenplay, but let's be honest: this is Javier Bardem's film as Anton Chigurh, a menacingly calm psychopath (with a sweet haircut) chasing Josh Brolin's Llewelyn Moss as he tries to flee with two million dollars found at a drug exchange gone wrong. Armed with a compressed air can used to instantly kill cattle, Chigurh slowly follows Moss, trusting nothing more than his inner rage and a little bit of luck.
#33. Kill Bill (2003/4)
Quentin Tarantino made his mark in the 90's with
Reservoir Dogs
and
Pulp Fiction
, but it wasn't until his two part feature
Kill Bill
that he grabbed the audience with a stylish collection of his own film loves. You can't really separate these films - they were originally supposed to be one long one, anyway. A revenge film of the highest level, it stars Uma Thurman as "The Bride" as she hunts down her former assassin squad partners and their leader Bill (David Carradine), wanting vengeance for the attack on her which resulted in the death of her unborn daughter and what they thought was her own demise. It's plotting, violent, and sometimes ridiculous, but it's also brilliantly acted and a delight to watch unfold.
#32. Moulin Rouge! (2001)
In the 1990's, director Baz Luhrman re-imagined Shakespeare's
Romeo and Juliet
as a contemporary film, but with the Shakespearean tongue still embedded as the script. In 2001, he set his film in Paris during the "Bohemian" movement, but littered it with contemporary music.
Moulin Rouge!
is more spectacle than substance, but it's an insanely entertaining film that somehow works as a slapstick comedy, a romance, and a class-based drama. Fun performances from Ewan McGregor, Nicole Kidman, John Leguizamo, and Jim Broadbent enliven the ridiculous film and make it just crazy enough to be liked by audiences and critics alike. The greatest thing you'll ever learn is to love...and be loved in return.
#31. Million Dollar Baby (2004)
Clint Eastwood's Best Picture winner of 2004 drew plenty of criticism not because it didn't have a happy ending, but because it took on a topic that not many mainstream filmmakers would even try to touch. Starring Hillary Swank (Oscar winning performance) as a female boxer who begs Eastwood to train her, the film takes well-photographed fight footage and places it against a story of companionship and dedication to what and who you love. The film gets a little preachy at moments and doesn't always draw its characters to the extent they should be, but it took home the big prize and was a must-see in the mid 2000's.
Almost halfway there - anybody pissed off yet? It could be worse...actually, at times, it will get worse. #30 - #21 coming up to upset you even more.