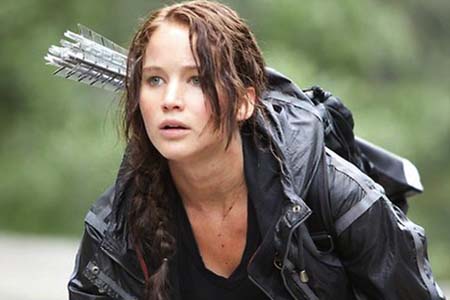 Jennifer Lawrence in Hunger Games
courtesy of sheknows.com
After we've looked back at the best of 2011, it's only natural for us to now look ahead to the new year. 2012 is set to bring us way too many sequels, way to many franchises that will be dragging on too long, and way too much Robert Pattinson, Katherine Heigl, and Tyler Perry, doing their best to ruin the industry as we know it. So, let's shave all that crap out and take a look at the movies in 2012 we should be really looking forward to, in alphabetical order.
The Dark Knight Rises

Expected Release Date: July 2012


The closing of director Christopher Nolan's Batman trilogy has the bar set pretty high. Batman Begins was probably the best Batman film at the time of its release. A few years later, The Dark Knight set the standard for all comic book movies after it. Now, add Anne Hathaway, Marion Cotillard, Tom Hardy, and Joseph Gordon-Levitt to an already brilliant cast and it's pretty damn tough to not think it will be a quality blockbuster. But can it possibly meet the weighty expectations placed upon it? Let's hope so.
Django Unchained

Expected Release Date: December 2012


Director Quentin Tarantino's long anticipated Western went through plenty of writes and rewrites and casting rumors. When all was said and done, he landed a stellar set of actors: Leonardo DiCaprio, Joseph Gordon-Levitt, Jamie Foxx, Samuel L. Jackson, Christoph Waltz, Kurt Russell, Sacha Baron Cohen, and so on. Expect this tale of an escaped slave turned bounty hunter to excite and thrill, especially with Leo as the villain.
The Great Gatsby

Expected Release Date: December 2012


One more DiCaprio film on the list, visionary director Baz Luhrmann's take on the great F. Scott Fitzgerald novel is a sweeping epic to be told. Luhrmann's past work (Moulin Rouge!, Romeo + Juliet) points to what should be a gorgeously wrought adaptation, though many worry about how the density of the themes in the novel could be applied to the screen. But, with Leo, Carey Mulligan, Tobey Maguire, and Joel Edgerton on board, it looks to be an entertaining romp in upscale Long Island.
The Master

Expected Release Date: Late 2012


I'm cheating - this may not be slated until 2013. But, until that is set in stone, I'll add this to the list. The Scientology film that is not about Scientology (officially), Paul Thomas Anderson's story of a 1950's war veteran who sarts a faith-based organization stars Phillip Seymour Hoffman, Amy Adams, Joaquin Phoenix, and Laura Dern. It's been reported to have plenty of attention (and problems) from the L. Ron Hubbard founded church, but with the director of Boogie Nights and There Will be Blood at the helm, I expect nothing less than a masterpiece.
World War Z

Expected Release Date: December 2012

Brad Pitt headlines this adaptation of the Max Brooks novel about a zombie war, directed by Marc Forster, the filmmaker who gave us Finding Neverland and The Kite Runner. The film centers around a UN representative writing a report, interviewing survivors of the war. With Pitt as the lead, the film will be sure to earn a little bit of coin, but may also earn quite a bit of critical acclaim, too.
Looks like December will be a good month! Happy New Year!
Honorable Mentions
The Avengers
The Hunger Games
The Hobbit: An Unexpected Journey
The Amazing Spider-man
Cloud Atlas
Prometheus
This is Forty