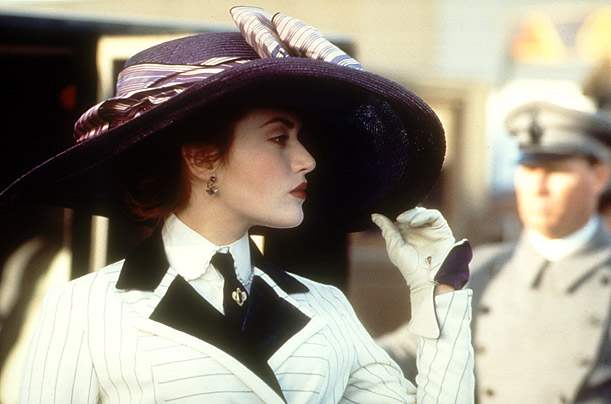 Kate Winslet in "Titanic" courtesy of bingoenglish.com
I'm a bit of a skeptic when it comes to big blockbuster films. In the recent years, the films that makes the most money rarely even sniff a positive critical review. Most of the time, these big budget, explosion-riddled, plot-absent movies are just what American audiences need to escape their problems and, honestly, thinking for a while. But not all these moneymakers are bad. I combed through the current list of the 25 biggest box office films of all time (in the U.S. - courtesy of IMDB) and picked the five I thought were the best of the group. There are a few others that I would consider good films (see the honorable mentions), but these are the cream of the crop. Here they are, in chronological order.
NOTE
: I decided to eschew animated films altogether for this list. Animated films are much more likely to be great films, and I didn't want the whole list to be Pixar/Disney. And no, that's not why
Avatar
isn't included below.
Avatar
was excluded because it's a bad film.


courtesy of duasrosas.com
Star Wars (1977)

Box Office Spot (as of 9/27/2011): 4th - $460,935,665

One of the first big time blockbusters, George Lucas's iconic science-fiction film is not just a man throwing cash at the screen. This is a deep, detailed, western in space with an exceptional cast. Nominated for best picture (it lost to Annie Hall), it's still one of the highest grossing films of all time, even 35 years and 12 parsecs later.


courtesy of listverse.com
E.T.: The Extra-Terrestrial (1982)

Box Office Spot (as of 9/27/2011): 6th - $434,949,459

The movie that still captures the heart of anyone who watches it, Steven Spielberg's family film about what it's like to grow up and look for friendship was a also a huge moneymaker. It still might be the best film in Spielberg's epic filmography, if only because of its affecting performances and its beautiful imagery. It was nominated for best picture, but lost out to Gandhi.


courtesy of jurassicpark.org
Jurassic Park (1993)

Box Office Spot (as of 9/27/2011): 17th - $356,784,000

I may get the most argument over this one, but I maintain that Jurassic Park is a really good film, regardless of its budget and topic. Again from Spielberg, this adaptation of the Michael Crichton novel is exciting and groundbreaking, as well as a vision to behold on screen. This was actually the first movie that I ever owned all to myself; a VHS copy I got for Christmas or my birthday or something.


courtesy of thecia.com.au
Lord of the Rings: Return of the King (2003)

Box Office Spot (as of 9/27/2011): 14th - $377,019,252

It's not the best of the three in my opinion, but it's the better of the two that fell into the top 25. The final film in the epic trilogy from Peter Jackson continued the adaption of J.R. Tolkein's expansive series of novels with a final chapter that had plenty of special effects and action, but also a solid story and great performances from a stellar cast of actors and actresses. It took home best picture that year - I'll always view it as an award for the whole trilogy, not this specific film.


courtesy of paleyfilms.net
The Dark Knight (2008)

Box Office Spot (as of 9/27/2011): 3rd - $533,316,061

When Christopher Nolan decided to revamp the popular comic book series with Batman Begins, it dove deeper into the psyche of the hero, as opposed to the comic exploitation filmmaking it had become through the influence of Jerry Bruckheimer in the 90s. In 2008, The Dark Knight premiered to critical adoration and huge audience response, making it currently the 3rd highest grossing film of all time in the U.S. And, though it's laden with plenty of action and explosions, it's also a fantastic story with some of the best performances you'll ever see in any film, let alone a "comic book movie."
So, I'm sure some of you either don't agree with this list or like other films that aren't here. A few honorable mentions sit below, but, excluding animated films, there's not much else worth my time.
Honorable Mentions & Why I left them out
#2.
Titanic
(1997) - It's not a bad movie. It's just overstuffed, over-dramatic, and a little weepy for my liking.
#10.
Spiderman
(2002) - I like this one, just not as much as the ones above. At the time, it was probably the best comic book movie of all time...
#15.
Spiderman 2
(2004) - ...until its sequel, which is better than the first. But still not quite up to the standards of the above list.
#13.
Harry Potter and the Deathly Hallows Part 2
(2011) - I haven't seen it, but as I understand, it's good, but confusing if you don't see all the rest and understand them all. I'm a few movies behind, I'll admit.
#19 -
Lord of the Rings: The Two Towers
(2002) - I decided to put the third one on the list instead. My favorite is actually the first, though, which didn't crack the top 25.