[caption id="" align="alignright" width="261" caption="Jason Bateman and Jennifer Aniston in "The Switch" courtesy of onsugar.com"]
[/caption]
This Friday, August 20th, the new Jennifer Aniston film
The Switch
premieres. In recent memory, the romantic comedy genre has fallen into hopelessly formulaic trends. Fortunately, along with the run-of-the-mill story lines comes the new trend of very interesting and funny supporting characters. So, this week, we're going to look at the supporting characters in more recent romantic comedies that completely stole the film. The movie would have been fine without them, but would have certainly been a lot more boring.


[caption id="" align="alignleft" width="266" caption="Andrea Martin in "My Big Fat Greek Wedding" courtesy of flixter.com"][/caption]
Andrea Martin as "Aunt Voula" in My Big Fat Greek Wedding
With an ensemble cast like
My Big Fat Greek Wedding
had, it's a difficult thing to stand out of the crowd. But, Andrea Martin did that with a quirky, hilarious portrayal of that weird aunt you can't help but love. Everything from stories about her lost twin to duping her brother-in-law into letting his daughter work for her, Martin puts everything into this delightful, memorable role. There are so many other great performances in the film, but this is the one that stands out well above the others. After all, she is the best cook in the family, and will go out of her way and make lamb for her vegetarian friends.
[caption id="" align="alignleft" width="258" caption="Rupert Everett in "My Best Friend's Wedding" courtesy of yimg.com"]
[/caption]
Rupert Everett as "George Downes" in My Best Friend's Wedding
As the "new" best friend in Julia Roberts' whimsical comedy, Everett gives an extra spice to what could've been a boring role. As the friend called in to cover up all the obvious envy of her old partner in crime, Everett poses as Roberts' fiancee, which is strange, due to his obvious homosexuality. He is hilarious, interesting, and the only person in the film who is
really
worth the rental. And he gives it to Julia straight. And it
is
true -  it's amazing the clarity that comes with psychotic jealousy.
[caption id="" align="alignleft" width="273" caption="Russell Brand in "Forgetting Sarah Marshall" courtesy of thesun.co.uk"]
[/caption]
Russell Brand as "Aldous Snow" in Forgetting Sarah Marshall
The movie was
really supposed to be the big break for Jason Segal (who did an excellent job, well past his due), but it turned into the "Russell Brand show." Playing the new rock star boyfriend of said Sarah Marshall (Kristen Bell), Brand gives an unhinged, borderline insane performance that is easily one of the biggest scenery-eaters of the past decade. Thanks mostly to this role, Brand has almost taken over America - he even got his own spin-off film from it, 2010's
Get Him to the Greek
. Not sure if we should thank the film or not, but if you can handle him these days, you deserve a medal, or a holiday or at least a cuddle from somebody.
[caption id="" align="alignleft" width="280" caption="Jason Lee in "Chasing Amy" courtesy of thecia.com.au"]
[/caption]
Jason Lee as "Banky Edwards" in Chasing Amy
In what may be the least "supporting" role on the list, Jason Lee stars as the best friend, roommate, and work colleague of Holden McNeil (Ben Affleck), a man who falls in love with Alyssa (Joey Lauren Adams), a "reformed" lesbian. All is well until Holden discovers that she has not
always
been a lesbian. Lee is butt of many a joke in the film, but does a wonderful job taking it all in stride, for the good of the relationships he has. He is clever and crude (as he is in all Kevin Smith films), but he is also a dedicated friend to Holden, even in his darkest hours. Even when he knows that this is all gonna end badly.
[caption id="" align="alignleft" width="288" caption="Romany Malco in "The 40 Year Old Virgin" courtesy of allocine.fr"]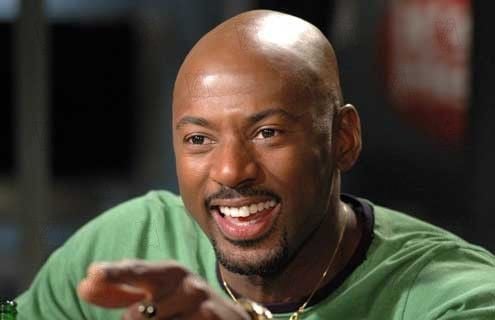 [/caption]
Romany Malco as "Jay" in The 40 Year Old Virgin
What other person in film would you rather hang out with, as a single, 40 year old virgin? Malco inhabits every inch of the screen in what
should
have been a star-making role. Jay is the textbook definition of a past-his-prime-player, completely bent of loving and leaving every girl he meets. But, he also looks out for "his boys," specifically Andy (Steve Carrel) in his quest for the "holy grail." Malco is high energy and almost cartoonish in a film so bent on making fun of the concept of sex in the first place, that it would be tougher for any other actor to stand out. Let's be honest - when you make a comedy about sex, it tends to get put on a pedestal.
So, the next time you are watching an unrealistic romance that is packed with laughs, remember that most of those laughs come at the
expense
of the main characters, courtesy of the select few who can steal the show in a supporting role.