[caption id="" align="alignleft" width="211" caption="Actor Dennis Hopper courtesy of static.guim.co.uk"]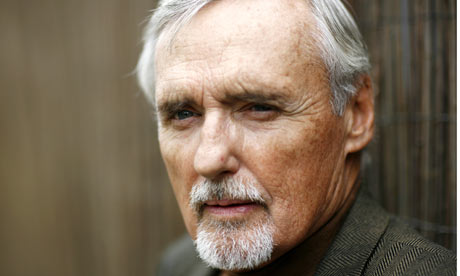 [/caption]
In the first entry in the our "Five Best" series, we look at the five best films of the late Dennis Hopper, who passed away this past Friday. In chronological order, let's take a quick look at Hopper's five best films and why they deserve recognition:
[caption id="" align="alignleft" width="217" caption="Still from "Easy Rider" courtesy of senior-zen.com"]
[/caption]
Easy Rider (1969)
Without
Easy Rider
, there very may not have been a talent like Dennis Hopper (or, for that matter, Jack Nicholson). Starring and written by Hopper and Peter Fonda and directed by Hopper,
Easy Rider
was the early predecessor to today's heavy independent film movement. The film was nominated for two Oscars - Best original Screenplay and Best Supporting Actor for Nicholson.
Hopper proved you could do it if you wanted to: go out, make a movie you want to make, and somebody, somewhere will like it enough to fund it. He may not have set out to make an award winning, perfect film, but he did create one a of the most important cinematic experiences of its era. Less a film about the story,
Easy Rider
speaks to the need for freedom, independence, and the right to ride.
[caption id="" align="alignleft" width="221" caption="Hopper in "Apocalypse Now" courtesy of shadowlocked.com"]
[/caption]
Apocalypse Now (1979)
Francis Ford Coppola directed this loose adaptation of Joseph Conrad's book
Heart of Darkness
. Hopper's performance as a photojournalist in the Vietnam era was a return to the mainstream for him and won great acclaim.The film was nominated for eight Oscars, including Best Picture. It won two - Best Cinematography and Best Sound.
The film, as a whole, is a dramatic piece about the horrors of war and what madness does to men. Surrounded by so many other great performances, Hopper's occasionally gets lost in the shuffle, as it really may only classify as a "cameo." But, in a film where every performance drives the drama and feel, Hopper's does wonders to display the loose, manic approach to war that some men developed in the trenches.
[caption id="" align="alignleft" width="243" caption="Hopper in "Blue Velvet" courtesy of joblo.com"]
[/caption]
Blue Velvet (1986)
In what will always be his most memorable performance, Hopper became fear manifested as Frank Booth in David Lynch's twisted
Blue Velvet
. As a psychopathic sociopath, Hopper eats up every piece of screen he is in, armed with a tank of ether and a gas mask. Though not recognized by the Academy with his performance, Hopper was nominated for a Golden Globe for his hair-raising turn.
Directed by David Lynch,
Blue Velvet
is a dark picture of what lurks beneath a seemingly normal suburban town and what happens when you decide to get involved. Frank Booth may be one of the most memorable, yet most eerily insane characters every put on film and Lynch has Dennis Hopper to thank for that.
[caption id="" align="alignleft" width="250" caption="Gene Hackman and Dennis Hopper in "Hoosiers" courtesy of reelfilm.com"]
[/caption]
Hoosiers (1986)
1986 was a good year for Hopper, who scored an Oscar nomination for his performance as an alcoholic father of a high school basketball player brought in by Gene Hackman to help coach a tiny high school basketball team in
Hoosiers
.
Based on the true story of a small school that won the high school state basketball championship in Indiana, it was a story not just about basketball, but about redemption, perfectly captured by Hopper's portrayal of Shooter Flatch.
Hoosiers
may always be known as an inspirational sports film, but Hopper's performance is truly uplifting on a completely different level.
[caption id="" align="alignleft" width="219" caption="Hopper in "True Romance" courtesy of zuguide.com"]
[/caption]
True Romance (1993)
In 1992, Quentin Tarantino directed a little movie called
Reservoir Dogs
, which took the Sundance Film Festival by storm. He paid it by selling the screenplay to
True Romance
, directed by Tony Scott.
In True Romance, Dennis Hopper plays a father who, in a twisted way, shows the truest form of love. Playing against a star-studded cast including Christian Slater, Patricia Arquette, Christopher Walken, Gary Oldman, Brad Pitt, and Samuel L. Jackson, Hopper plays a truly sympathetic father to his lovestruck son. His son has made a few "bad" decisions, but Hopper will not let any harm come to his son, regardless of his mistakes. Hopper shares the screen with Walken in one of the most riveting scenes in recent memory, in a discussion about, we'll just say, European history.
Rest in peace, Mr. Hopper. Thanks for a riveting catalog.